Guatemala, heart of the Mayan world, is a lively, magical, mystic, and ancestral country. Its history dates from four thousand years ago when the Mayan civilization emerged.  Guatemala's inherited
 legacy is still evident in the traditions and culture of its habitants.
This Central American country is gifted with a plethora of varied natural resources, an extraordinary cultural richness, as well as a privileged geographical location. The distances from place to place are so short that you can visit different regions during the same trip. Between its past and present, it is a unique country, full of adventure and diverse activities for every visitor.
Guatemala is known as the country of the eternal spring, its fair weather allows you to visit it at any time of the year.  
The Guatemala Photography Workshop
Spend a whole week learning or improving your photography skills in the most amazing and beautiful sites Guatemala has to offer.  Leave the tripod and flashes  at home and just bring your camera and your favorite lenses.  We  will provide you with the knowledge, experiences, and what you need to maximize your love for photography during this workshop/adventure trip.
The tour and workshop is conducted by Manolo Grajeda, a Guatemalan experienced photographer, fully bilingual in English and Spanish, with a deep knowledge of the country's people, cultures, and geography.  (Read more about Manolo's biography below)
This photography tour has been carefully planned for several months, and every single site has been explored and photographed multiple times by your guide, Manolo.   Our hotels have been carefully chosen to bring you a more truthful and fuller Guatemalan experience.  We will photograph the natural beauty of Guatemala, its people and its 
history.  Everyone will have plenty of time to master night photography, travel photography, adventure, nature and street photography. 
As a result of previous experiences, we agree that in order to provide you with the best outcome, our tours will have a maximum of 6 photographers.  Manolo, has extensive experience conducting photography classes, meet-ups, and leading Houston's photographers.  Tours and workshop trips involving hands-on experiences yield best results when done in a small group setting.   
When:
 Wil be going to Guatemala in a monthly 
base starting February
 2023
March 2023 

(to be announced soon),
April 2023 (to be announced soon).
Where:

 Guatemala, Antigua, Atitlan, Chichicastenango.  You will arrive at Aeropuerto 
internacional La Aurora in Guatemala City, where you will be picked up by  one of our drivers and driven to your hotel. We will then move around the country by private minibus or car depending our group size. Departures will be at the same airport.  We'll drop you off at your departure gate
​​​​​​​.
Cost:

$2,499USD per photographer (based on double occupancy).  $200 discount for non-photographers.  $500 Single supplement.
Registration, payment and refunds: 
A $800 deposit will hold your spot.  Your deposit will be 
refundable until 30 days before the tour, with a 10% charge. within 15 days, your deposit becomes non-refundable
.   The rest of the balance must be paid 30 days before the tour. Checks and electronic deposits/transfers such as Zelle are accepted.  PayPal is also accepted with a 3% surcharge, to a total cost of $2,677.  After you sign up, we will send you follow-up  information as to where to make the payments.    The fees are based on double occupancy.  Single room are available with a $500 supplement.  We recommend taking the tour with a friend! If payments are not received on due dates, your spot will be filled with another photographer from the waiting list.  You can make your reservation payment at: https://lux-photo-gt-usa.myshopify.com/collections/photography-tours
What
 is included:
all hotel 
accommodations, all breakfast, all lunches, and a welcome and farewell dinner, ground transportation, park fees, use of tripods and other photography accessories, personalized instruction and assistance.
What is not included:
alcoholic drinks, snacks, non-tour parks or adventures, dinners, trip insurance
Welcome to Guatemala, the country known as Land of the Eternal Spring.  At the airport, you wil

l be picked by our driver and head to our Guatemalan Style BnB to drop off your 
luggage.  In order to coordinate everyone's arrival, we will have an optional

 activity planned for those who flew in earlier.  We will then head to 
fabulous
 Finca el Amate.  
We can be adventurous and walk and photograph through the lava fields, go birding, or simply stroll to the park, we'll spend the rest of the afternoon there.  After arriving at the hotel,  will then gather to discuss the tour a

nd to answer every single question.  After that, will have dinner at one of Guatemala's trendy restaurant.  
Right after breakfast, we'll head to Antigua Guatemala, a Spanish Colonial City founded in 1,548.  You will find yourself surrounded by 3 magnificent volcanoes, some dormant and some active.  After checking in at the hotel, will be walking these ancient streets along with indigenous people dressed in their colorful traditional costumes, impressive Colonial Architecture, and a colorful and layback environment.  We will start our tour around the main plaza and visit a few of the colonial churches and monuments. We will take a photography tour around Antigua, and visit some of the ancient colonial ruins (destroyed by several earthquakes of the last four centuries).  Be ready to walk for a couple of hours as we cover the most impressive sites of the city.  We will also visit a
 famous coffee farm, Finca Filadelfia or Finca Caoba, for a coffee plantation tour.  We will explore the fauna and flora the finca has to offer.  Optional extreme adventures are available for an additional fee. In the evening we can stroll freely around the city of Antigua and have dinner at one of the many international restaurants.  
Today we will be climbing Pacaya, an active volcano.  Put on your hiking boots, grab your backpack, camera and be ready to be amazed! Don't feel like spending too much energy? no worries… there will be a mule to bring you as close to the crater as possible.  There we can photograph  the Guatemalan volcanic landscape, part of the Pacific Ring of Fire.  We will spend the morning ascending and descending this furious volcano.  In the afternoon we will visit and photograph the Mayan ruins of Iximche and will spend the rest of the afternoon in the eclectic city of Panajachel, surrounded by the majestic Atitlan lake and it's three volcanoes.  We will photograph this majestic landscape at sunset.  An 
overnight stay in San Pedro La Laguna culminates this day. 
Day 4: Atitlan, Volcano and Historic Towns Tour
 

Early in the morning will trek to El Rostro del Indio, a sightseeing point where we can photograph the sunrise, along with a spectacular view of the Guatemalan Volcanic chain and the majestic lake.  In the afternoon, w

ill board a Lancha (small boat) and cross the lake and travel to the indigenous town of Santiago de Atitlan, one of the 12 surroundings indigenous towns around the lake.  We will photograph the lake fishermen in their carved canoes, the beauty of the this town and its people.  After heading back to Panajachel, we will take a stroll around town where you can enjoy some of the local fish and other delicacies.
We will travel to Chichicastenango.  Be ready to be amazed by the sight of the Indigenous Market Day in the main plaza.  Be sure to have a spare flashcard when we visit the local cemetery and the surroundings of this amazing town.  In the afternoon we will transfer back to Antigua.  Will have some time off to go shopping and then will meet to have a night photography lesson.
Day 6: Antigua Guatemala, Altamira and Hobbitenango.
We'll explore the vicinity of Antigua, we'll start at Cerro de la Cruz, and then up the mountain of  

aldea El Hato to witness some of the most 

spectacular views in Guatemala! We'll climb up (by vehicle) to Altamira Oreo or to

Hobbitenango

, two amazing nature parks where we can see and photograph the majestic

volcanoes  that surround the city of Antigua.  We can have some snacks and drink while we comtemplate the nature around us and while we breathe pure mountain air.

 We can take also take a well deserved break.  If time allows, will then  travel to Cerro Alux for some bird watching and to explore the trails and hanging bridges.  We will spend our last night in Guatemala City. 
We'll have early breakfast, and then we will transport you to the airport so you can catch your flight back home. For those 
departing 
later on the day, we will have more a few more hours to explore the surrounding areas and so

cializ

e.
​​​​​​​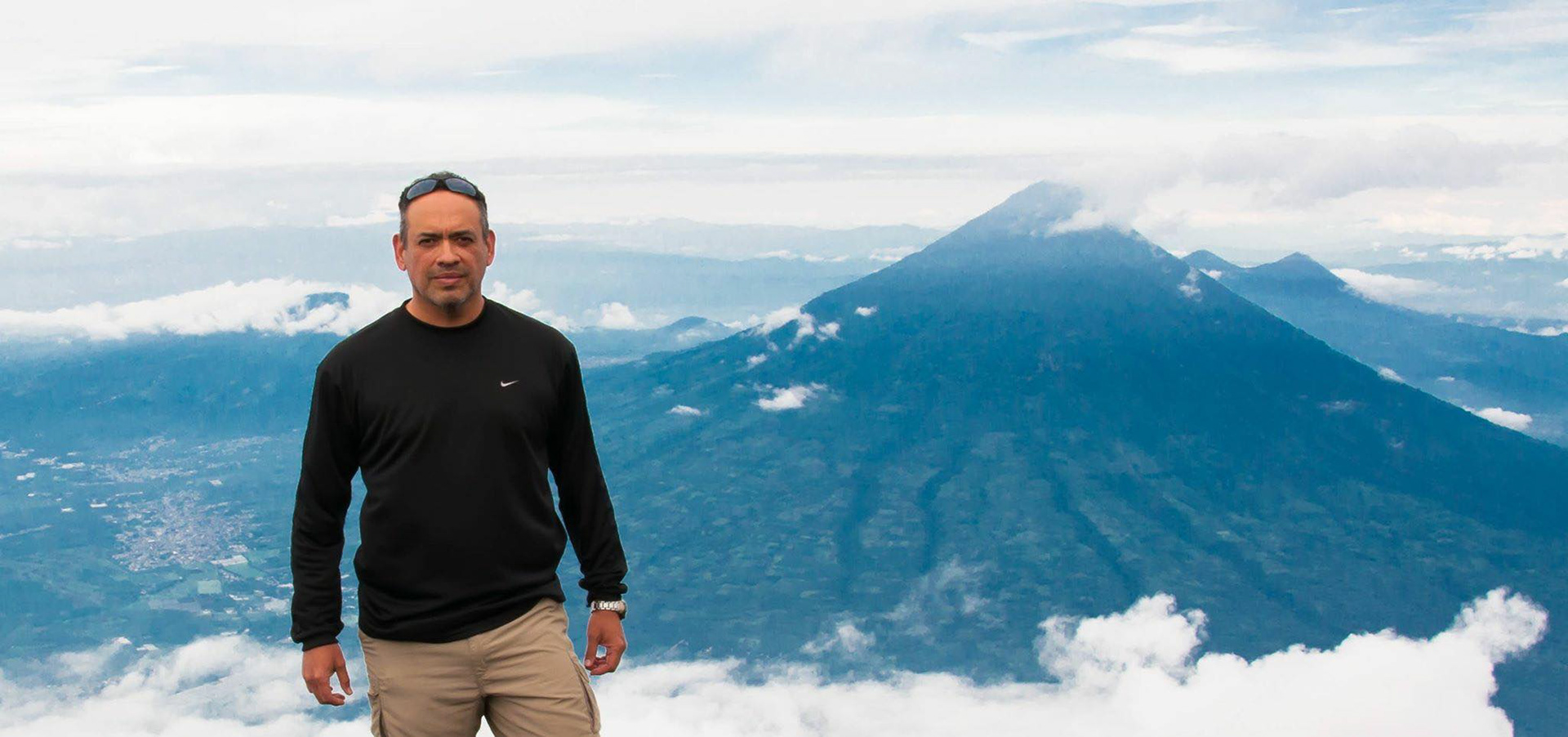 Here is a little bit about your guide/instructor for this tour:
Manolo, born in Guatemala, is passionate about night photography, travel, wildlife, and adventure photography. He spends several weeks a year exploring and photographing Guatemala and its people. Currently Manolo works as a professor at University of St. Thomas and as school teacher at Alief ISD.  Manolo is the organizer of Discovering Houston Photography Meetup.
Follow him on :
Check out some of Manolo's photographs: